Co-produced by Teater Nordkraft, Hålogaland Teater & Reykjavik City Theatre.
Premieres in Aalborg, DK – January 25th 2022
BLOOM is a study of the woman in 2021. The all female cast of 5 have co-created the material and expression of the performance. Hilarious embarrassments mix with heartbreaking fragility and raw power. True to Kristján Ingimarsson's fearless, physical performance style, the five women throw themselves into both nerve wrecking stunts and introverted, exploratory moments.
BLOOM is an orderly chaos, a new kind of performing arts – at a time when man no longer looks inwards for answers and truths, but reaches OUT! Out into the physical world, in search of a connection with others. We live in a time of wild upheavals and changes, both outside ourselves and inside – where do we lead each other, and how do we find the humor in it all?
BLOOM is a spectacular performing arts experience that makes us question everything we think we know about theater. The performance takes place in an ever changing stage space, which takes even the most experienced theatergoer by surprise.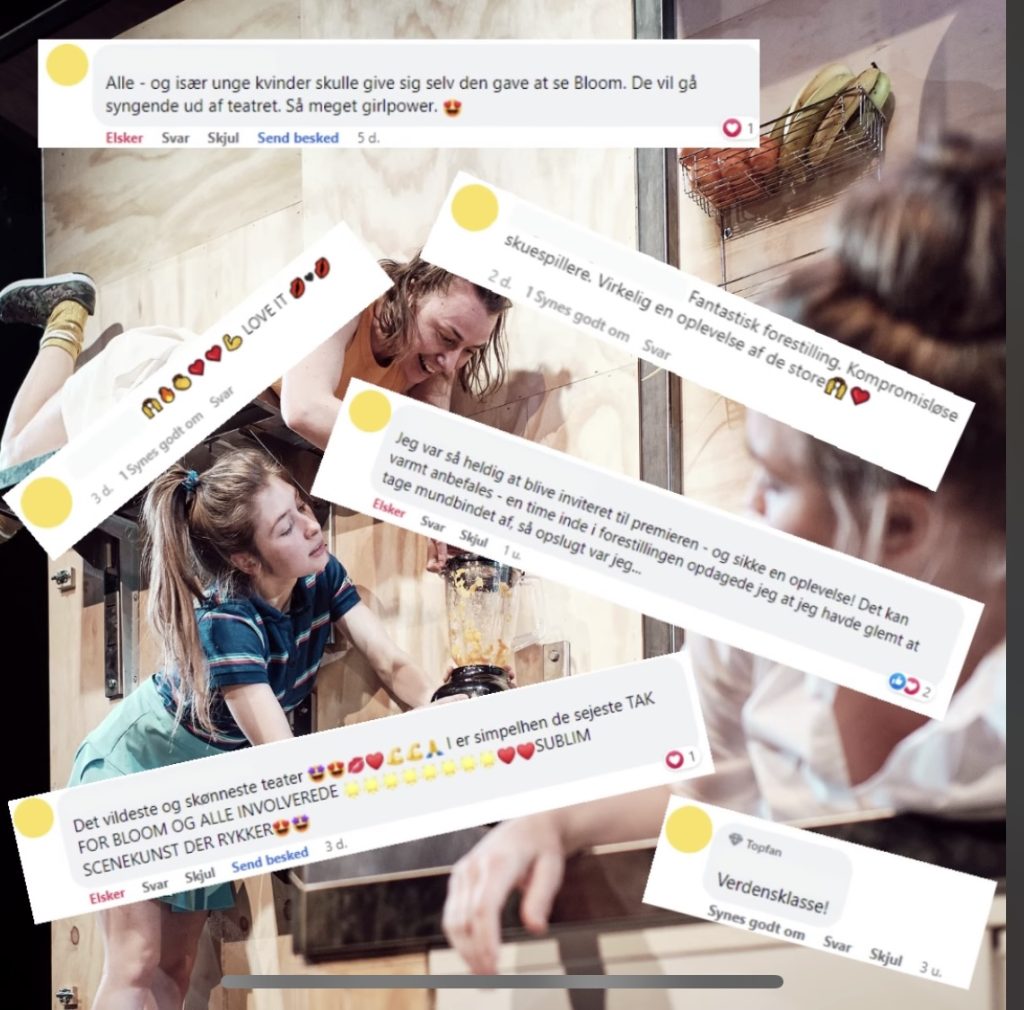 Idea, concept & director: KRISTJÁN INGIMARSSON
Directors assistant: ANNA RÓSHILDUR BENEDIKTSDÓTTIR BØVING
Set designer: JONAS FLY
Electric set elements – designer & builder: KRISTIAN KNUDSEN
Set builders: MIKKEL MUNK IVERSEN & BJØRN KVELLAND
Prop master: FREJA WRANG GAMMELGAARD
Tailor: PARNUUNA THORNWOOD
Choreographer: THOMAS BENTIN
Sound design: RASMUS O. BUNTON
Light design: EIRIK LIE HEGRE
Assistant: BENEDICTE ANDERSEN
Producer/KIC: ARNA LÁRA PÉTURSDÓTTIR
Production manager/TN: MIKKEL OVE HANSEN
Performers: NOORA HANNULA, IDA FROST, NINA TIND JENSEN, JOSEPHINE REUMERT GRAU & LOUISE BONDE